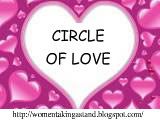 I am so excited to introduce to you the first blog highlight for
the new Friday segment of CIRCLE OF LOVE!
I have met so many wonderful, Christian ladies thru my
blogging experience and I want ALL of you to know them as well.
Come along with as we get acquainted...

MEET MY FRIEND... PIA
I am not even sure how my path crossed with Pia, I think it was maybe about a year ago thru the THANKFUL THURSDAY ministry. Pia is always a blessing to me and her readers as she shares so wonderfully from her heart. She is from the Philippines and serving her Lord with passion and fervency. I love that about her.
Earlier this week, I made a visit to her blog site and I was thrilled to see her penning about one of my most favorite people in the Bible ... JOSEPH! Joseph to me represents the ultimate "reconciliation" story and it offers someone like me who is seeking reconciliation a wonderful promise that God is still in control even when our situation may seem bleak! Here is a peek at what Pia had to say earlier this week about What Has God Promised You ...
Tuesday, April 21, 2009
Joseph knew that one day he was going to rise to a position of great authority. The problem? He was a slave who had just been accused of rape.
Do you know what God is going to do for you, but your circumstance right now seems to have a sign that says IMPOSSIBLE?
In the Bible, nearly every story is filled with incredible hardship, shaking and hopeless situations. But the characters involved held on to what God promised them and never gave up. They took God at His word. Even when they were at their lowest, they didn't let go of what God had said. Our story could be just as inspiring as theirs . . . if we don't give up.
No matter who we are, where we live, what we've accomplished or what we've lost, we have a promise that God is waiting to fulfill. And He will fulfill that promise — if we don't give up. If He's told us He will do something, then it's already done. So in a way we can't give up, because we're guaranteed to accomplish what He said. ~ John Paul Jackson of Streams Ministries.
What has God told you? If He told you He would do something, then it is as good as done.
10 As the rain and the snow come down from heaven, and do not return to it without watering the earth and making it bud and flourish, so that it yields seed for the sower and bread for the eater,11 so is my word that goes out from my mouth: It will not return to me empty, but will accomplish what I desire and achieve the purpose for which I sent it."Isaiah 55:10–11
YY
Thank you Pia for that great insight on what God has promised us! Recently, I had the opportunity to get more acquainted with Pia and I would like to share with you our online conversation:
1. PLEASE TELL US YOUR NAME AND WHERE WE CAN FIND YOU ON THE WEB?
Pia Go Olano / www.piasjournal.com
2. HOW LONG HAVE YOU BEEN BLOGGING AND TELL US YOUR FAVORITE THING ABOUT BLOGGING?
I have been blogging since 2004. I write down anything I feel like writing. Blogging was and still is an outlet for me to pour out my emotions whether good or bad. Right now, my favorite thing about blogging is being able to help others find their way to God in my own little way.
3. WHAT ARE THE MAIN THINGS THAT YOU BLOG ABOUT?
I blog about my walk with God, my life and my marriage.
4. TELL US ABOUT YOURSELF...if you work ~where? ...have a family ~ tell us about them?
I'm from the Philippines. I'm a 35 year old wife standing and believing for the restoration of my marriage and the salvation of my husband who's in a far country right now. I don't have kids yet but I pray to God that my husband and I will have really soon.
5. HOW LONG HAVE YOU BEEN SERVING THE LORD?
I have been a Christian since I was little but it's just last year, 2008, that I had, should I say, a real relationship with my Father in Heaven.
6. CAN YOU GIVE US A TESTIMONY OF HOW GOD HAS PROVEN HIMSELF FAITHFUL TO YOU?
God has proven Himself true to me not just once but several times. He has proven His Word true in my life and in my marriage. Right now, I'm having problems with my family, He still is there giving me direction. He provided for me financially while my beloved is away. I know I will have my "Promise Land" as God's covenant with me. My God is faithful then, still is now and will always be faithful to me.
7. COULD YOU SHARE WITH YOUR CIRCLE OF BLOGGING FRIENDS YOUR FAVORITE SCRIPTURE?
Right now I'm standing on this verse in Philippians 1:6 "being confident of this, that he who began a good work in you will carry it on to completion until the day of Christ Jesus."He who began a good work in (Jec & I) will carry it to completion until the day of Christ Jesus.
8. HOW HAS THAT SCRIPTURE MINISTERED TO YOU RECENTLY?
I believe that God's Word is truer than whatever my circumstances dictate. I do believe that He will carry to completion His promise to me and Jeric.
9. WHAT ADVICE ABOUT BLOGGING WOULD YOU OFFER TO YOUR CIRCLE OF BLOGGING FRIENDS?
Blog with your heart.
"Thank you Pia for that great advice, certainly I can see that you are blogging from your heart. I appreciate your ministry as you share the heart of Christ with your readers! Thank you for being an encouragement to me and Women Taking a Stand!" -LAURIE
PLEASE VISIT PIA HERE!

WOULD YOU LIKE YOUR BLOG FEATURED HERE ON "CIRCLE OF LOVE"? I want all of my readers to meet YOU! Click HERE for more information on how you can appear on CIRCLE OF LOVE, a new segment on fridays!