This week during my "Circle of Love" segment,
I want to introduce you to a really fun, exciting and spirit-filled friend of mine....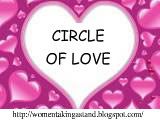 ~ MEET MELANIE ~
The Fruits of the Spirit
But the fruit of the Spirit is love, joy, peace, patience, kindness, goodness, faithfulness, gentleness, self-control. Galatians 5:22
I am not exactly sure how Melanie and I started sharing with each other in blogger world. But Melanie is just one of those writers, that you instantly just fall in love with. If I am not mistaken, I think our paths crossed about a year ago thru the meme Thankful Thursday. I have been following her writings ever since.
One of the things that I just love about Melanie is her passion. You can sense the passion that she has in everything that she shares with her readers on her blog. She is passionate about her job. She is passionate about her husband. She is passionate about her kids. She is passionate about Jesus Christ. and she is passionate about her readers.
Recently, Melanie has started a study on the book of Colossians on her blog. Here is another passion I have found that she has...to share God's Word with others! On a recent visit to
THE FRUITS OF THE SPIRIT
, this is what Melanie was sharing....
Colossae sits on a ridge above the Lycus River in what is now Turkey. People passed thru Colossae as they traveled from Ephesus to the Euphrates; Ephesus was approximately 100 miles west of Colossae.

About 6 years before writing the letter to the Colossians, Paul had met Philemon and Epaphras while in Ephesus. Philemon was from the city of Colossae where he hosted meetings in his home for the believers in Colossae. Epaphras came to know the Lord thru his friendship with Paul. After spending time in Ephesus with Paul, Epaphras returned to Colossae to share his new found faith with his friends and family.

The letter to the Colossians was delivered to the believers of Colossae by Philemon's runaway slave, Onesimus, and Paul's friend and fellow servant, Tychicus of Asia. Paul was in prison at the time and had written this letter along with two others -- one a personal letter to Philemon and the other for the believers of Ephesus.

Today the city of Colossae is buried under a hill in Turkey. Although the city is no longer in existence, the words Paul wrote those that lived there so many years ago are still true. His words endure and speak great truths that are valuable to us even today.

The letter to the people of Colossae presents Jesus Christ to them as someone that is able to meet all their needs and the answer to all their challenges. Paul tells them who Jesus Christ is and what He can do for each of them. It answers the questions:

* Who is Jesus Christ?

* Is he a god?

* A created power?

Join me over the next few months and together we will look deeper into the words Paul wrote to the Colossians so many years ago. We'll answer the question "Who is Jesus Christ?" and we'll see that even today He meets our needs just as He did for the people of Colossae many, many years ago.
What an inviting introduction to what the coming weeks will be like over at Melanie's place as she guides us down the Colossae road of "Who Jesus Christ is".
Recently, I was able to speak to Melanie online and she shared alittle bit more about her ministry and her hearts passion. Here is what she had to say....
2. HOW LONG HAVE YOU BEEN BLOGGING AND TELL US YOUR FAVORITE THING ABOUT BLOGGING?
I've been blogging for just over a year now. There are so many things that I like about blogging – the sense of community we all have together, the way we all love and encourage and pray for each other, and all that I have learned from so many of the women whose blogs that I read regularly.

Blogging has also been a source of growth in my own walk with the Lord. I began blogging as a way to write down and put into words what I was learning and studying in God's Word -- a personal type of accountability, if you will. I find that the act of putting things into words forces me to think and pray on them more and pulls me towards a better understanding of the topic.
3. WHAT ARE THE MAIN THINGS THAT YOU BLOG ABOUT?
I blog about what I am currently learning as I study the Bible. I am working thru one book at a time. I have just recently begun the book of Colossians.

I also blog about my personal walk with the Lord -- areas where He is specifically speaking to me. I participate each in week in a couple of memes; usually Word-Filled Wednesdays and Thankful Thursday. And, from time to time I will include a post on my family/family life.
4. TELL US ABOUT YOURSELF...if you work ~where? ...have a family ~ tell us about them?

I have been blessed with a wonderful husband and two great kids. My son, Josh, is 7 yrs old (1st grade) and my daughter, Abby, is 4 yrs. old.
We are actively involved in our church, enjoy hanging out with our friends or just at home as a family. We enjoy time outdoors together and taking little mini-vacations over a 3-4 day weekend.
I work full-time as a Systems Analyst and my husband runs his own company specializing in installations and maintenance of medical heart and health monitoring systems. We've also, just this last year, started a new business "Beads-N-Style". Our hope is that this business would take off enough to allow me to resign from my job as a Systems Analyst and run our new business from home.
5. HOW LONG HAVE YOU BEEN SERVING THE LORD?
I asked the Lord into my life around 11 yrs of age. Since that time I have experienced high times and low times in serving God, but even during the low times continued to have great faith in God and worked to move forward in my relationship with Him. All the while, continuing to strive to keep my focus on Him and serving Him in my little corner of the world.
6. CAN YOU GIVE US A TESTIMONY OF HOW GOD HAS PROVEN HIMSELF FAITHFUL TO YOU?
God has shown His faithfulness to me in so many different ways throughout my life. He provisions have always been great, He is with me always, He guides and He protects – regardless of the circumstances and regardless of how I react or choose to behave. I can clearly see how certain events have led the way to where I am today and I am confident that I am right where God wants me to be for this time.

7. COULD YOU SHARE WITH YOUR CIRCLE OF BLOGGING FRIENDS YOUR FAVORITE SCRIPTURE?

It's so hard for me to narrow down to just one… could I share two?

"Don't worry over anything whatever; tell God every detail of your needs in earnest and thankful prayer, and the peace of God which transcends human understanding, will keep constant guard over your hearts and minds as they rest in Christ Jesus."
Philippians 4:6-7

"Let us therefore come boldly unto the throne of grace, that we may obtain mercy, and find grace to help in time of need.
Hebrews 4:16
8. HOW HAS THAT SCRIPTURE MINISTERED TO YOU RECENTLY?

I can't tell you how many times I have turned to this first verse and how every single time God is faithful. When I truly turn it all over to God – completely letting it go -- He does keep guard over my heart and He gives me peace.
This second verse is one that I have claimed for myself for this year. I believe that God wants us to come before Him boldly, fully expecting Him to meet our needs and fully expecting Him to answer. This is how I want to always pray and seek God – boldly.

9. WHAT ADVICE ABOUT BLOGGING WOULD YOU OFFER TO YOUR CIRCLE OF BLOGGING FRIENDS?
Blog from your heart -- always desiring to serve the Lord and share His love with all those that may find your blog.
"Thank you MELANIE for such great advice, certainly anytime we visit your page we can see you doing exactly that...sharing Gods love with all those that visit with you. Thank you for the wonderful way that you minister to us thru your writings and thank you for your encouragement to me and to WOMEN TAKING A STAND!" -Laurie
Visit MELANIE over at THE FRUITS OF THE SPIRIT...click here!