I am so excited to introduce you to another friend on this week's segment of CIRCLE OF LOVE! I have met so many wonderful, Christian ladies thru my blogging experience and I want ALL of you to know them as well. So come along with me as we get acquainted...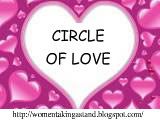 ~ MEET MY FRIEND... CINDY ~
Cindy is relatively new to the blogging world. I got to know Cindy a long time before she began blogging. Cindy is an old friend of mine, we attended church together for several years when our children were young. It has been quite awhile now since Cindy and her family moved to another state, but we have kept in touch thru different things like facebook and emailing.
God has done some amazing things in Cindy's life since she moved. For one thing, God called her and her husband into ministry! They serve as youth pastors and it has been amazing to watch Cindy blossom into such a beautiful blossom for the Lord!
Not only does Cindy have a heart and passion for young people, but also for women. Thus, the name of her blog - WOMEN OF FAITH. I made a visit to her blog earlier and found a great post on "Do not be afraid". Here is part of what Cindy had to say about fear ....
"Our main purpose here on earth is to be a witness and share God's Word with others. Why are we afraid to step out of our comfort zone? Why are we afraid to listen to God? Why are we afraid to be obedient to what God has called us to do? Why are we afraid to take the next step, that leap of faith?

Matthew 28:19-20 Ezekiel 2:6-7


Each summer our youth group takes a Missions Trip. I have learned that witnessing can be easy if you just allow God to use you. This past summer, we took our group to Milpitas, CA where we ministered to the surrounding communities. We went out into the streets of San Francisco during the night and witnessed to many different people, lost people, those who had lost hope and fell into drugs and prostitution and now homeless. It was sad to see such a sight, what you would see in movies was happening right in front of us and all you could do was..." (to continue reading Cindy's post ~ click HERE!)
YYYY
Thank you, Cindy, for sharing with us that great truth that because of Christ we do not have to be afraid! Recently, I had the opportunity to speak online with Cindy and when I asked her to share her heart with us, this is what she had to say...
1. PLEASE TELL US YOUR NAME AND WHERE WE CAN FIND YOU ON THE WEB?

Cindy Peplaw
-
http://www.womenoffaithblog.blogspot.com/
2. HOW LONG HAVE YOU BEEN BLOGGING AND TELL US YOUR FAVORITE THING ABOUT BLOGGING?
I
have been blogging for about 8 months now. My favorite thing about blogging would be the inspirational stories. I am hoping that what God has placed on my heart to write in some way will touch those reading the stories.
3. WHAT ARE THE MAIN THINGS THAT YOU BLOG ABOUT?
Women of Faith blogs range from personal experiences and what God has placed upon my heart to write. I enjoy writing and was keeping a journal and then started blogging. I pray my stories are words of encouragement and inspiration and will help those reading the blog to never give up but keep pressing on in Christ.
4. TELL US ABOUT YOURSELF...if you work ~where? ...have a family ~ tell us about them?
I have a wonderful, godly husband and 2 beautiful children, a son Will age 22, and a daughter Krista age 20 (whom will be getting married in a few weeks, May 23 - to a wonderful godly young man, Nick). My husband and I have been married almost 24 years and I have truly been blessed by God with a wonderful family. My husband is a Youth Pastor for our church, Calvary Temple Assembly of God in St. Charles, MO and also works full time as a computer programmer. We have been involved in youth ministry for 8 years, youth pastors for 4 years. We have been truly blessed to part of such an amazing youth group, they are our second family. God has truly blessed us! Our son is in college and majoring in Journalism and our daughter is in college majoring in Elementary Education (emphasis on teaching Kindergarten or First Grade). I am a Substitute Teacher for the Francis Howell School District for Early Childhood (preschool) and Elementary. I really enjoy working with kids both young and old. I love being a part of the Youth Ministry. We take annual Youth Missions Trip each summer and I look forward to being able to share our experiences in upcoming blogs. We serve an awesome God!
5. HOW LONG HAVE YOU BEEN SERVING THE LORD?

Almost 19 years!
6. CAN YOU GIVE US A TESTIMONY OF HOW GOD HAS PROVEN HIMSELF FAITHFUL TO YOU?

There are numerous times God has proven himself faithful. I do remember one that really stands out and it was about 5 years ago. My husband was laid off in Oct. of 2003 and was out of work for a good 7 months. Then a year later due to cutbacks from the government, Bill was laid off once again. God opened a door at his old employment and he was rehired. During the layoffs God provided our needs in times when it didn't seem possible. We didn't lose our house, our cars or anything and we have God to thank for that. We had used up all our savings but we serve an AWESOME GOD!!! He has always been with us through each surgery my husband has had (15 surgeries in the last 10 years). Praise God!
7. COULD YOU SHARE WITH YOUR CIRCLE OF BLOGGING FRIENDS YOUR FAVORITE SCRIPTURE?
Jeremiah 29:11 "For I know the plans I have for you," declares the Lord, "plans to prosper you and not to harm you, plans to give you hope and a future."
8. HOW HAS THAT SCRIPTURE MINISTERED TO YOU RECENTLY?
Daily reminder that he has a plan for my life.
9. WHAT ADVICE ABOUT BLOGGING WOULD YOU OFFER TO YOUR CIRCLE OF BLOGGING FRIENDS?
Pray and seek God! Listen for his voice. Writing should be a passion and what you do from the heart. God will give you the words just put your trust in him. You can blog about your own personal experiences which may help someone who is reading your blog. We each have a story and it is waiting to be shared with the world. Share your story!
Thank you CINDY for that great advice, certainly I can see that you are blogging with a passion! I appreciate your ministry as you share your story with your readers! Thank you for being an encouragement to me and Women Taking a Stand!" -LAURIE