Today I have shared a devotion over at LACED WITH GRACE!
It is entitled,
"Getting across the monkey bars"....
"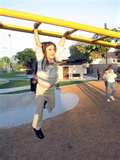 When I was a young girl, my favorite thing to do on the playground was climbing on the monkey bars. These metal bars always seemed to fascinate me. It was a challenge to me to see how long I could hang by my arms or legs. On days that I felt really strong, I would see how quickly I could cross the bars, moving one hand after another until I had crossed to the other side. Usually by the time I reached the middle section, my
"...
CLICK HERE
to read the rest of this devo!