He expects nothing less than for us to follow His example. I challenge you to give something every day of your life. You may think you won't have anything left if you do that, but if you give as the Lord leads you to do, soon you will receive so much that you will have to figure out where to put it all.

2 CORINTHIANS 9:10 "Now may He who supplies seed to the sower, and bread for food, supply and multiply the seed you have sown and increase the fruits of your righteousness."

GOD GIVES YOU BREAD TO EAT AND SEED TO SOW. Some things that God sends your way are given as seeds for you to sow into the lives of others. Ask God to show you what He wants you to give away.

SPEAKING OF THINGS TO GIVEAWAY!!!
I have two different give-aways that I wanted to tell you about....
THE FIRST GIVEAWAY:
I am celebrating my 1-year anniversary of blogging this month. I have
MEGAN D
EMARIA'S
2 newly published books,
"Searching for Spice"
and "
Out of Her Hands".
I have read both of these books and they are awesome! Megan is a fellow blogger gone published author.
To enter this giveaway (
I will give away one book each....)
Just leave me your name, blog site or email address so I can contact the winners. You can do this by leaving your information in the comment section and let me know you want to be in the drawing.
I will draw 2 winners on January 20th!
THE SECOND GIVEAWAY:
LACED WITH GRACE
is also having an incredible giveaway! Tara Klena Barthel of
Living the Gospel in Relationships
has offered an incredible Bible Study to be given away in this awesome giveaway!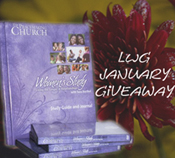 It is always fun to enter contests and win something... I hope that even if you don't win in either one of these giveaways that you will give part of yourself away to someone this week.
Sometimes the best things we can give away are not always possessions but things that come from our heart:
Love, joy, forgiveness, acceptance, humility, peace, understanding.
GIVE FROM YOUR HEART TODAY!